---
FOCUS: Resilience Training for Military Families
FOCUS (Families OverComing Under Stress) provides resilience training to military children, families, and couples. It teaches practical skills to help families and couples overcome common challenges related to a military life. It helps build on current strengths and teach new strategies to enhance communication and problem solving, goal setting and creating a shared family story.
---
---
Learn Key Skills
Emotional Regulation

Family members learn to better understand their emotions and a common emotional language to make it easier to communicate with one another.

Communication

Family members learn to actively listen and respond to one another's concerns.

Problem-Solving

Families learn how to clearly define problems and implement effective solutions, as well as ways to handle day-to-day challenges, while recognizing and building upon their existing strengths.

Goal-Setting

Families learn how to set and take steps towards achievable goals.

Managing Trauma and Stress Reminders

Family members learn how to develop a plan together to deal effectively with trauma and other stressful experiences.
---

Resources specifically designed for service members, their spouses/partners, and children as well as the professionals who serve them.
---
FOCUS World
FOCUS World provides online access to resources and activities that enhance the main FOCUS skills, problem solving, communication, goal setting, emotional regulation and managing trauma and stress. Using an interactive platform, FOCUS World offers a variety of educational resources and games for families to explore.
Get Started
FOCUS World is a great way to introduce your family to the skills taught in FOCUS sessions. Explore resources and activities to help your family learn more about the key skills taught in FOCUS: communication, problem solving, managing trauma and stress reminders, goal setting, and managing emotions.
Next Steps
Love what you're learning in FOCUS World? Learn about sites near you on our Find FOCUS page!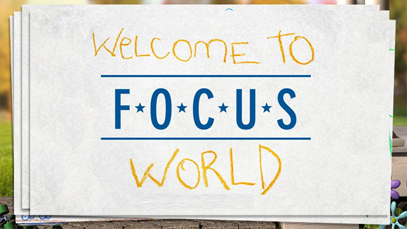 Away from your computer? Check out our mobile app FOCUS on the Go!